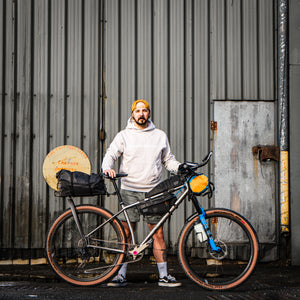 Pacenti Rides; Dales Divide
The Dales Divide is a long-distance off road route that winds it's way from Arnside, on the North-West coast of the UK, across to Scarborough on the East, and back again, covering some 600km and 10000m of elevation. No mean feat! Having said that, the event has been designed to be a great introduction to those trying long distance, off road riding for the first time. Whilst there's no getting around the fact it's a long way with loads of elevation, the organisers provide mountains of information, a GPS shortcut made available ahead of time, and riders are encouraged to help each other if they're not at the pointy end - a note that our rider would be grateful for earlier in his adventure than he would have liked!

This was to be Stephen's first foray into long distance off-road riding having ridden a number of on-road events over the last few years. Here's his story.
"When we got to the start I was amazed at just how many people on bikes had amassed on the small stretch of seaside road in this sleepy lake district town. I was even more amazed at how differently everyone had approached their setups. There were slight carbon rigs with skinny tyres. There were fat bikes, gravel bikes, hardtails, full sussers, and rigid mountain bikes. Then, with each combination of frame and tyres, an array of luggage. The speedy folks clearly opting to throw caution to the wind with teeny frame bags and pockets stuffed with sustenance, whilst others laden to the hilt with every tube baring a strapped drybag or stuffed pannier bag.
I know who had the better nights sleep when the going got rough.
I'd opted for what I thought would be the middle ground. I had bivvy/tarp sleep system and a good stock of winter kit in reserve. The weather was due to change from cloudy to Biblical at some point throughout the weekend and I had no desire to get caught out, I'd rather carry the extra weight (Remind me of this sentiment later...)

We rallied together at the pier for a welcome from the rides organisers, including Pat Hall, the mother of the late great Mike Hall. There was something truly bittersweet about seeing her in front of a few hundred anxious cyclists that chilly April morning. I doubt very much that there was a single person there who hadn't been influenced or motivated by Mike and the monumental impact he made on the long distance cycling scene. I took a deep breath and silently sent thanks and gratitude out into the universe. It calmed my nervous energy.
A heartfelt and beautifully Northern "off you go" from organiser Chris Ellison
Soon after, the race was under way.
I had a target for this one. I wanted to finish "mid-pack". I had come to this conclusion for a few reasons;
1. I knew I wasn't going to be at the pointy end, I've seen some of those maniacs, and although I do have long term ultra ambitions I think I'm some years away from being competitive with the speedy riders. 
2. I had had a decent early seasons training block and all signs were pointing to decent fitness. 
3. I had literally all the gear. I've been supported by some amazing brands in the cycling world, I have no excuses there.
4. Mid-table felt like a flexible goal that would allow for weather. If I was having a bad time, everyone else would be as well! Living on the edge of Calderdale had given me good experience of weather coming in and having to push through. In fact, I truly believed that the worse the weather got, the higher up the table I'd finish. I thought I was gritty and Northern.

The first few miles were a laugh. A giant peloton of loaded up riders stole the streets of Arnside, winding their way into the first off road sections. I knew a few faces and caught up with friends old and new, before settling into my natural pace. There were some folks flying to the front, presumably to distance themselves from the unusual traffic jams caused by too many bike-packers. Universally, however, people were pulling over to strip off layers, and this was to be the tone for the first day.
It was hot. Way hotter than most were expecting.
When faced with the prospect of spending a self-supported long weekend in the Lake District and North Yorkshire Moors in early April I can assure you that most of us aren't asking "What happens if it gets too hot?".
9.30am and the Yorkshire sun beating down
But blimey.
It's over a month later and I'm still sporting a razor sharp tan-line across my forehead where my cycling cap sat. 
I'd opted for a 2 litre bladder in a frame bag and had a further 1.2 litres of water strapped to my forks. By 50km in I was dry, with nary a drop of liquid left. I made rookie mistake #1 (of many...).
"I'll just crack on until I pass somewhere I can grab some more water". I thought to myself. This, dear reader, is the attitude of a road rider who's about to find out the hard way that that's not how it works on off road endurance events. The problem, although blindingly obvious in hindsight, is that you don't just pass shops when you're off road. There's not a Co-op at the top of Cam High Road.
I pushed on, quelling my increasing dehydration by drinking in some truly stunning scenery. The climbs were vicious, unrelenting and long. I was grateful for the full-range mountain bike gearing I had opted for and although slow, I was pleased I often found myself over-taking others who didn't have the gearing for such torturous climbing. The sun-soaked views at the tops made it feel worthwhile, and took my mind off the tight furious pain beginning to amass in my head.
Rookie mistake #2 was golden, and one I can only laugh at now I look back at it. The first hike a bike section saw riders take a very steep slog up through the back of Ingleton falls (past a very tempting ice cream van, might as well have stopped and enjoyed it knowing what I know now) to a rocky outcrop. A spectacular view back across Ingleton falls spread out below and a number of riders had chosen this picturesque spot to enjoy their lunch.
I hadn't stopped to eat, and didn't intend to. Although my water situation was dwindling I was doing well with caloric intake and only stopped to lean the bike up against a rock for a photo.
A fellow divider popped up from the ascent, claiming to have ridden the last section without a dab, although his foot now sat on his pedal, his pedal atop a rock. We all agreed it didn't count as a dab and that victory was his. We laughed.
I said there was no way I could get up that climb, but I had managed to make my bike stand on it's own for a picture (the old pedal resting against a rock trick, IYKYK) and just as the words left my mouth, in slow motion, my rig toppled, smashing into the rocks behind it. There was a definite crack, and something had broken (beside my pride) but I couldn't see what it was.
It took a few minutes of triage before I realised my GPS unit was no longer attached to the bike. In fact, it was no longer anywhere. A wave of panic came over me. A truly helpful rider, without a hint of judgement in his voice, pointed that he saw something bounce a few rocks down. Fortunately he was right, and I was re-united. Unfortunately, the mount was cracked and unusable.
Surprisingly adequate bodge that saw the GPS through even the roughest descents
I took a moment of quiet contemplation. A prayer of four letter words whispering from my lips before standing up straight and taking a deep breath. The kind of deep breath you only take when you know you've got no one to blame but yourself.
I sucked up every bit of pride I had and asked one of the riders having lunch* if they had a spare zip-tie. I had packed some, but in my quiet rage I couldn't find them for love nor getting-down-this-very-remote-mountain. If this was any other ultra event this would have been against the rules, but it wasn't any other event, so it wasn't against the rules. I managed to rig my GPS back in place using the zip tie to tension one side and a spare exposure o-ring mount I had in my pack on the other. This bodged system stayed in place until I got home, and although I could no longer see my heart rate or distance covered, I could at least see where I was going.
The following hour was spent reminding myself what a prize tit I was. I didn't even get the photo of my bike.
As the day wore on, deep down, I knew I was in trouble. My pace was okay, but the dehydration was setting in. I was actually looking forward to the climbs, because even though I had front suspension the downhills were agony on my increasingly painful headache. I felt every rock and divot as a spike of pain between my eyes, at least with the uphill I could jut focus on turning my legs.
I convinced myself to keep moving forward. There had been two refuel opportunities in quick succession. At the second I sat and drank all the re-fill from the first before filling up again and moving on. I figured it was just a matter of time before I started to catch up with myself. Sadly, I didn't.
At about 120km I took stock of where I was up to, looked at my once more dwindling water supply, and had the good sense to open up the route and see what lie ahead before committing to a decision. The resulting information told me that there were some 50km without anything resembling a resupply. My average speed had dropped significantly given the bogs, and that 50km was likely to take me well over 5 hours with only a litre of water left. I made some phonecalls and ended up at the last room at the Travelodge in Skipton. Wolfed down a burger king and 2 large colas. 
Drink loads, bit of a kip, get back on course.
I went to brush my teeth before bedding down and didn't regonise the face staring back at me from the hotel bathroom mirror. It was red raw with glazed eyes. I've done multi-day long distance before, I've ridden through the night and over great elevations, never had I looked so beaten. 
I tan well, but the sun really caught me and a number of other dividers out this year
I arose just before sunrise and TT'd the 10km of road back to the point at which I'd left the course. Unsurprisingly, I was met immediately with an off road, janky climb that had me walking as much as riding. 
I got to the top and had a cry. Why was this so hard? I had set my sights on being mid table, I'm not even a quarter of the way through and I'm toast. I sat with my thoughts for a few minutes, called my wife, then freewheeled back down the trail I'd just ascended and took about pootling to the closest train station. It was about an hours ride and I kept challenging my decision to scratch - but it was the only option. My head was pounding. I'd made too many errors on day 1, and there was no way I was going to be able to catch up with myself, even if I could drag myself through day 2.
In hindsight, I think I had heatstroke - but realistically the simple facts were that I hadn't planned well enough and made a bunch of poor decisions. I was out. 
So, what did I learn?
1. Don't take re-stock for granted on off road events. Especially water.
2. Don't "just crack on" when things start getting hairy. Deal with problems as they arise, lest they get worse as time goes on.
3. Don't lean your bike up against precarious rocks and boast about it. 
4. Don't assume just because it's early April in the North it won't get warm. 
5. Imagine how much harder it would have been if I didn't have such amazing kit!

I'd be remiss if I didn't mention the wheels I was running, since you're here and all. I was using the Pacenti Forza Carbon 30 Wides with Schwalbe Racing Ralph 2.25 tyres. They are flawless. They rolled as quick as any gravel wheels on the tarmac and offered surprising levels of comfort when the going got rough. Knowing the process behind building the wheels gave me absolute confidence in throwing a fully laden rig down the chunkiest trails without thinking twice. I'm truly thankful to Luke for building the best wheels I've ever ridden. 

For anyone unsure, I would urge them to take a punt on the Dales Divide. The route was glorious, the nature of the event leads to a different and wholly lovely atmosphere that I was proud to be a part of, regardless of my less than perfect performance. I should hope to be back next year, where reliably I'll pack too much water and not enough weatherproof kit as it's all but promised to be a complete washout"

*Truly, thankyou to the gentleman who sacrificed a zip tie for me. I don't remember your name but we also rode the North by North West audax together last year and you were on a very lovely Stooge. If our paths cross again, I owe you one (or two!)
Kit List:

Bike: Olsen Otepoti
Wheels: Pacenti Forza 30 Wide
Tyres: Schwalbe Racing Ralph
Chainest: Appleman Cycles 2XR
Shifting: SRAM GX Eagle AXS
Handlebars: SQLabs 30X Carbon 12 degrees
Bags: Tailfin & Restrap
---