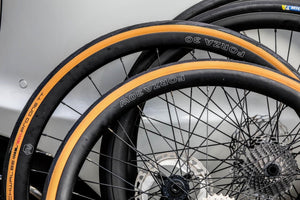 Forza Carbon Vs. Forza Carbon Wide

Forza: The Power of Choice
"Forza" is to Italian what "allez!" is to French – a rallying cry to push forward with strength and determination. Here at Pacenti Cycle Design, our Forza rims embody that spirit, offering a combination of lightweight design, stiffness, reliability, and a touch of class.
We understand that choosing between our two popular options, the Forza Carbon and the Forza Carbon Wide, can be a bit perplexing. That's why we've put together this handy guide to help you decide which one is right for you.
Forza Carbon: The Lightweight Racer
The Forza Carbon is a 30mm deep, lightweight carbon rim designed for those who crave speed and performance. Its asymmetric profile delivers far more aerodynamic benefits than your average 30mm wheelset, making it the top choice for Pro Team Saint Piran riders when tackling hilly courses.
With an internal rim width of 21.3mm, the Forza Carbon is still considered wide by classic standards. It allows you to run narrower tyres (such as 23/25c) without compromising cornering speed and stability. While we're big fans of wider tyres, we understand that some riders prefer narrower options when pushing their limits. If that sounds like you, the Forza Carbons are your perfect match. We often summarise by saying if its up to 34mm tyres then go for Forza Carbon.
They weigh in at around 1415g as a standard wheelset and can accommodate tyres up to 42c for those daring gravel adventures. However, if you plan on using anything over 28c and weight isn't your top priority, you might want to consider the Forza Carbon Wide.
Forza Carbon Wide: The Versatile All-Rounder
The Forza Carbon Wide is the ultimate "one wheelset to rule them all" option. It's ready to deliver on race day, whether you're counting laps or days in the saddle. We're huge proponents of a wider internal rim, and here's why:
Better lateral support: A wider rim provides a more stable foundation for your tyres, especially during cornering. This prevents the tyres from rolling or squirming, allowing you to handle your bike more confidently and ride faster or safer, depending on your skill level.
Lower pressures and improved traction: The increased volume of the wider rim allows you to run lower pressures, which is excellent for traction on gravel or uneven surfaces. Your tyres can better conform to the terrain, resulting in a smoother, more comfortable ride with enhanced grip.
Optimised tyre profile and contact patch: A wider internal rim width creates a rounder tyre shape and a larger contact patch with the ground. This improves traction and control when cornering or tackling loose surfaces like gravel. The increased contact area also helps distribute pressure more evenly across the tyre, reducing the risk of punctures or pinch flats.
Reduced rolling resistance: When paired with the right tyres, wider rims can actually reduce rolling resistance, thanks to the optimised tyre profile and deformation. This means you can maintain higher speeds with less effort, boosting your overall efficiency.
The Forza Carbon Wides are compatible with tyres ranging from 28c to 2.25" XC mountain bike tyres, providing you with incredible versatility. Both rim options feature a hookless design, making tubeless setup a breeze with modern tyres. As always, if you order a wheelset from us, rest assured that they'll be hand-built to our exacting standards.
If you're still unsure which Forza rim is best for your specific needs, don't hesitate to get in touch. We're passionate about discussing your requirements and helping you elevate your ride experience.
Until next time, happy riding!
---